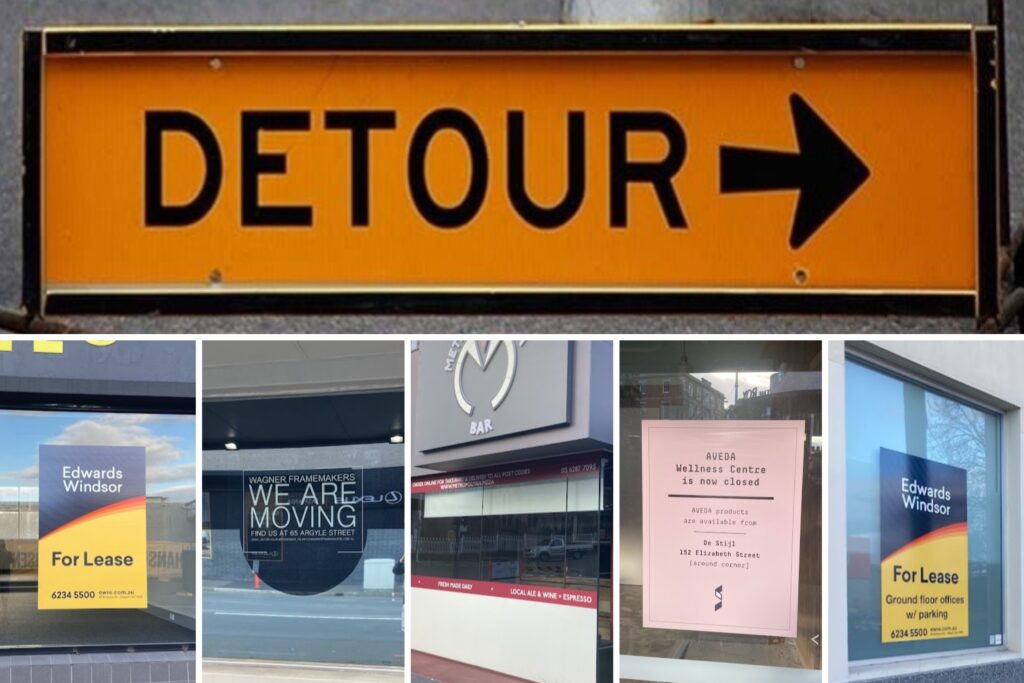 Traffic Management Decisions
Hobart Small Businesses are suffering from current traffic management decisions
Current and proposed lane closures by UTAS combined with the new scrambled crossing are having an impact.
UTAS developers are proposing to permanently close part of Brisbane Street to vehicles and pedestrians for the next 2 years.
This area is a shadow of its former self with just 2 businesses left trading, everyone else has left.
Brisbane Street closure will:
Restrict all vehicle and pedestrian access on the westbound side resulting in the loss of 8 car spaces,
Reduce customer access for all the businesses in the surrounding area,
Cause traffic congestion and chaos as seen in current Campbell Street and Harrington Street closures.
Scrambled Crossings
Scrambled crossings are greatly adding to traffic congestion in the inner CBD with only a handful of cars getting through each time.
Businesses in Elizabeth Street are suffering decreased air quality due to the petrol fumes from the banked up traffic.
This petition is calling on the Hobart City Council to:
Allow for greater flexibility with lane closures by not applying blanket bans to vehicle and pedestrian access,
Advise the State Government on either adjusting OR removing all scramble crossings to allow traffic to flow.